Product Highlights

The Warman® AH® pump is the world's standard for heavy duties. A wide variety of impellers and shaft seals provide a perfect fit for a wide range of applications. The AH® pump provides excellent wear life while maintaining efficiency during the wear cycle providing the best total operating cost.
Wuhan Feite Electric Co.,Ltd.

Vacuum CircMV Vacuum Interrupter,Vacuum embedded pole,MV Vacuum Circuit Breaker,Vacuum Load Break Swtich,Vacuum Contactor,MV Vacuum Interrupter Components(metallic bellows,moving/fix conductive rod,soldering materials)uit Breaker and Components.
Wuxi Geological Drilling Equipment Co.,Ltd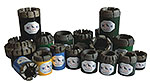 Our company is mainly engaged mainly engaged in the production of BQ/NQ/HQ/PQ wireline core barrel drilling tools,drill rod ,overshot assembly,diamond core bit,reaming shell,underground core drilling rig and mud pump for clients