Product Highlights

Fan and casing designed for high efficiency and low-noise operation. Easy to handle and repair due to possible separation of motor and blades after complete installation. Maximize cooling efficiency due to adopting aluminum die-casting motor. Better installation due to the rectangular shape.

Electric wire and cable
Medium voltage/Low voltage Power Cable- XLPE insulated power cable, upto 18/30(36)kV
Control/Instrument/Signal Cable
Aluminum Wire for Overhead Line- SAC(15kV, 35kV), ACSR
Insulated Wire, Building Wire, Grounding Wire
Bare Copper Conductor

Environment friendly(SF6 GAS FREE), Reliable and Enhanced life expectancy, Advanced outdoor dielectric material. 10,000 times operation guaranty.Epoxy mold insulation usable in heavily polluted area. Comply with IEC60265-1. Eported to Indonesia, Vietnam and other south east Asian countries
Dongnam Petroleum Ind. Co., Ltd.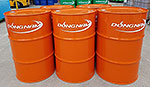 DONGNAM Petroleum Ind. Co., Ltd. produces supreme electric insulating oil which can be used in super high voltage transformers (765kV) by developing and applying a high degree of purification technique. We also have an Environmentally Friendly-Electric Insulating Oil, which is a non-toxic and less flammable with longer lifespan.

KEPCO Qualified Insulator,surge arrestor,fuse cutout switch,disconnect switch,recloser,load break switch