ผลิตภัณฑ์ไฮไลต์ปี 2562
Floeter Verpackungs-Services GmbH

Attractive and safely packed: Air cushion systems by FLOETER. FLOETER is one of the leading companies in the field of industrial packaging, air cushions and packaging systems in Europe, USA & Asia Pacific. Our program includes transport protection in many variations. Air cushion machines & films for every application.
Flowcrete International (Thailand) Co., Ltd.

Flowcrete Asia is the leading manufacturer of high quality epoxy, polyurethane and methyl methacrylate resin flooring and car park coating solutions in Asia. As part of Flowcrete Group, with commercial sales offices across Europe, the Americas, Asia and Africa.
FLSmidth(Thailand) Co., Ltd.

Automatic container loader

RINSING-FILLING-CAPPING MONOBLOCK The integrated Monoblocks grant high hygienic level and top performances. Processable main products: viscous (jams, ketchup, sauces, pate, creams, babyfood ecc.), drinks & liquid (energetic, tea, juices, oil). The Monoblock can be configured in different versions: Blower and/or rinser, Filler, Capper (different solutions for plastic or glass bottles).
FnB Machinery & Solutions Co.,Ltd.

Automatic Line For Glass Washing , Filling , Cap selecting And Capping Machine 4+1 Capacity 2000 BPH at 250 ml. Including Hot water Bath , Storage Tank Volume adjustable from 100-1000 ml.
Food Innovation and Development Co., Ltd.

Proseal GTOe Tray sealing machine suitable for all type of product. Able to do MAP and sealing in one machine.

"We are the leader of food machinery" We manufacture many kinds of machine. One of our outstanding is washing machine such as pallet washing machine, bottle washing machine, can washing machine and tray washing machine. Some of them are 3 zones, 4 zones or 5 zones.
Food Service and Solution Co.,Ltd.

FOOD SERVICE & SOLUTION CO.,LTD. (FSNS) is an importer and distributor for high quality cleaning tools brand Hill Brush (UK). Hill Brush hygienic food grade cleaning tools are manufacture with FDA approved materials under ISO standard.
Forbo Siegling (Thailand) Co.,Ltd.

PROSAN™ BELTS The latest technology with two-sided coated belts for perfect hygiene properties • Protected belt body makes for long service life • Low friction coefficient for cost-effective operation • The underside fabric, broken twill (BT), is easy to clean • Small return radii (5 mm and above) possible

Automatic heat sealer SMART PACK is the ideal choice for sealing food containers. It cuts the film to the contour of tray which you've always wanted. SMART PACK with a clean die-cut system will enhance the appearance of your meal the best that it can be.
Forefront Food Tech Co.,Ltd.

The high speed sausage vacuum filler by portioning butterfly chain and twin-horn casing loader
Foshan Haomingda Machinery Manufacturing Co., LTD

1. Controlled by three servo motors 2. Multi-function ,various products and size available 3. PLC Touch screen operation ,easy to operate and understand 4.High speed, connectable to various feeder line 5.Double frequency converter controller / servo motor for choice 6.High sensitivity sensor, Durable sealing cutting blades
Foshan Jingrui Packaging Machinery Co.,Ltd

APPLICATION Filling with milk,fruit vegetable juice,plant protein drinks and various of beverages PACKAGE FORM Brick-shaped carton packages made of paper AL / PE laminated materials
FPE Sandwiching machine system is designed for sandwiching biscuits or crackers of any size or shape (round, square, rectangular) with an output rate from 800 to 4800 sandwich/minute. Wire-cut system, parts in stainless steel or food-grade material, easy to disassemble and wash in order to guarantee the highest quality standards.
FPT Food Process Technology Co.,Ltd.

The rise of increasing environmental awareness has brought stricter air pollution regulations. Be a part of this initiative via FPT's unique smokehouse air purification solutions: the FESSMANN Afterburners for single units, and the KMA filtration systems for multiple units. Our solutions can reduce carbon footprint emissions by up to 99%!
Frank & Associates Plastic Co., Ltd.

As a multi-performance film manufacturer, F&A provide comprehensive solutions of thin film in various industries. * CO-EXTRUDED BARRIER THERMOFORMABLE FILM FOR FFS PACKAGING * CO-EXTRUDED LID FILMS * CO-EXTRUDED TEARABLE FILMS * SPECIALTY PET FILMS * SPECIALTY PP FILMS * BIODEGRADABLE FILMS

Ecodry closed loop adiabatic liquid cooler. The world's most efficient cooling - optmized for your need. Come to visit us stand BP11 Hall 103
Our latest model FW3410B Alpha 8 is for hermetic seal wrapping.

Automatic Filling-Sealing Machine / FF-10-230N Forms various packaging automatically by competent standard equipment and various optional components. Pouch recycle feature is included as standard to reduce wastes of unfilled pouches.
Futamura Chemical Co.,Ltd.

Renewable and compostable NatureFlex™ films are made from responsibly sourced wood pulp. They are independently certified to both EU (EN13432) and US (ASTM D6400) industrial composting standards and have reached the standard required for home composting by TUV Austria. They are an excellent example of a circular economy in action.
Futec Southeast Asia Sdn.Bhd.
Smart Camera equipped with NEW platform, Flaw detection and classification. Stable and durable Inspection System.
G HWA Industries Co.,Ltd.

High purity stainless steel tubes, components, valves and pumps for food & beverage, cosmetics, personal care, bio-pharma, vacuum & semi-conductor industries.
Gala Industries Asia Limited

Your Global Partner for - Pump & Filtration Systems - Strand Pelletizers - Underwater Pelletizers - Pulverizing Systems

Super SIVTEK vibrating sieve machine comes with a variant in sizes to cater the need of different industries! Like, Food & Beverages, Pharmaceutical, Paper& Pulp, Metals industry and many more.

The RG270 Series, suitable for filling fresh and ESL liquid food products into Gable-Top cartons. Quick format changeover to enable the fill of a wide range of products and sizes. The ESL options preserve product integrity and help maintain shelf-lifes.
GDXL Precise Machinery Co., Ltd.

PET blow molds for beverages (water, CSD, Hot-filled, aseptic bottles), food (edible oil), home and personal care applications. PET preform molds for various neck finishes and applications, from 32 to 144 cavities. Closure mold, hot-runner and retrofit conversion parts. Engineering solutions such as multilayer co-injection complete system proposal, etc.

CALLIFREEZE® is a unique new control system developed for the GEA range of freezers for the food industry. The system monitors the condition of products exiting the freezer, and then automatically calibrates the freezer parameters to ensure that every product is frozen according to optimum requirements with minimal energy consumption.

HEATED HOSE Keeps the fluid at a constant temperature External controller with basic view (optional PID) Insulating sleeve, very low heat loss Electrical connection with insulated pluggable connector Outside silicone sleeve for easy cleaning Finishing with stainless steel over-rings at both ends

General Co., Ltd leads the way through imagination and creativity in producing thermal transfer ribbon and Hp 2.5 inkjet cartridges. We are Japan manufacturer for full range TTR wax, w/resin, resin and TTO. We also manufacture solvent, water base and UV Led curable ink for HP TIJ 2.5 printer technology.
Geotech Intertrade Co.,Ltd.

The best hygienic twin screw pump JEC ZS series (EHEDG certificated). For both product transfer and CIP in one pump. More gentle product handling for high and low viscosity fluids with pulse-free, smooth, higher efficiency and energy saving.

With the introduction of GMS5000ECD model, the Gericke Multiflux batch mixer line received its largest model so far. Despite the maximal useful volume of 4000 ltr, the mixer provides the same outstanding accessibility for cleaning and short mixing time that the GMS mixer line well known for.
Geyssel Sondermaschinen GmbH

Rotary Applikator Type 544-545 Machine for the orientation of bottles, cups etc. used for the position accurate application of straws, forks, spoons etc.
Glory Foods Processing Machinery Ltd.
HIGH EFFICIENCY CRATE WASHINE MACHINE CAN WASH CRATES,TRAYS,BASKETS,ECT.

FiS-OEE% (OEE% Realtime System) - OEE% Real time - Downtime Monitor and Data Record - Time Line Machine Status Monitoring - Actual Per Hour Monitoring
Gold Great Good Machinery Co., Ltd.

*OPP/BOPP Hot Glue Labeling Machine *Sleeve Machine *Two Sides Labeling Machine *Round Bottle Labeling Machine *Flat Surface Label Applicator *Horizontal Wrap-around Labeling Machine *Orientaion System Labeling Machine
Goldvest Trading (Thailand) Co., Ltd.

Importer, Exporter and stockiest of material handling and industrial Equipments, Dock Leveller, Dock Shelters, High Speed roll up doors, Swing doors, Sectional Overhead Sliding Insulated doors, Pvc strips curtain and pvc panel
Goma Process Technology Pvt.Ltd.

WE ARE THE LEADING MANUFACTURER OF HOMOGENIZER IN INDIA. WE HAVE WIDE RANGE FROM 50LPH TO 20,000LPH WHICH CAN BE USED FOR APPLICATION LIKE MILK & MILK PRODUCTS, YOGHURT, FLAVOURED MILK,ICE-CREAM,JUICE,EMULSIONS ETC. WE HAD SUPPLIED ABOUT 3000 UNITS IN INDIA AND OVERSEAS.
Good Time Import-Export Co.,Ltd.

Full Servo High Speed Horizontal Flow Wrapper Machine Model : HP-350V/HP-450V/HP-600V
Greater Tech Engineering Co.,Ltd.
We are professional in the design and construction of machinery for the food and beverage industry. However,we are able to design the machine and production line according to the customer's product and production area. Thai Machinery Quality International Standards.
GS1 Thailand, The Federation of Thai Industries (GS1)

GS1 Thailand as a leading provider of standards and solutions for dozens industry sectors, we introduce the standards, solutions and services of the barcodes and EPC/RFID technologies to help everyone involved in making, moving and trading goods to automate their supply chain processes using the language of GS1 global standards.
Safety closures for Spirits, Oil and Beverages Aluminum closures for Spirits, Oil & Vinegar, Beverages and Wines Decorative closures for Spirits
Safety closures for Spirits, Oil and Beverages Aluminum closures for Spirits, Oil & Vinegar, Beverages and Wines Decorative closures for Spirits
Guan Yu Machinery Factory Co., Ltd.
GUAN YU MACHINERY-Sieving and filtration specialists. Ourvibro separators provide satisfied performance in different industries especially in food processing and pharmaceuticals production. The customized design to meet existed equipments is welcomed. Materials can be full SUS304, 316.
Guangdong Danqing Printing Co., Ltd.

our company is specializing in flexible packaging for more than 28 years, such for food,beverage,meat products,flavoring,snack food, daily-use products and chemical products,which is famous for spout standing pouch,stand up zipper pouch ,retort pouch ,food packing film,easy-peelable film,PVC shinkable sleeves and label etc..
Guangdong Designer Technology Co., Ltd.

P120-1200
Guangdong DMG Kompressoren Co., Ltd
It has committed to the first class comperssor for PET bottle blow industry. The bull series screw-oil free piston booster compressor : *high efficiency and save energy *high reliablity *humanization design
Guangdong Highdream Intellectualized Machinery Co., Ltd.

Packaging turn-key solution--Ideal for products handled in bulk package,such as chips, nuts, salad, and even nonfood. Automatic feeding, weighing to packaging, achieving unmanned packaging line.
Guangdong Huiji Pharmaceutical Equipment Co., Ltd.

30 years producing experience in capsule filling machines, polisher, counting machines, pell machines etc.
Guangdong Shanzhang Industry Co., Ltd.
SGE-F400-1250 ROTOGRAVURE PRINTING PRESS
Guangdong Xinjintian Color Printing Industrial Co., Ltd.
Professional Manufacturer of Retort Pouch 1.High Temperature Resistant; 2.High Barrier; 3.Long Shelf Life;
GUANGDONG YONGYOUTE LINK-TECH MACHINERY CO., LTD.
PET perform mold&PET Bottle Blowing Machine Hot runner pin valve PET perform mold, material S136, ensures high accuracy and stability. PET Bottle Blowing Machine is suitable for producing PET plastic containers and bottles in all shapes.
Guangdong Yuedong Mechanical Industrial Co., Ltd.
The whole process of the machine,pouch-sending,fixed-position filling,nitrogen-gas filling,cap regulating and feeding,cap screwing,pouch discharging,and liquid level controlling,are all uncer fully automatic control.The machine is used to fill and cap stand-up pouches with jelly juice,soy milk,pure water,ice water,yoghurt,milk,edible oil,seasoning,and detergent,etc. products.The machine is controlled by PLC+Touch screen.It is new food packaging equipment of reasonalbe structure,advanced performance,high automation and high speed.
Guangzhou Biaoji Packaging Equipment Co.,Ltd

Testing oxygen transmission rate(OTR) of flexible packaging materials, such as plastic film, co-extrusion film, aluminum -plated film.
GUANGZHOU COWEST MACHINERY EQUIPMENT CO.,LTD

The Vacuum Tube Lifter ? is our company devised and developed a suction lifting system solving most HANDLING problems which are widely considered as a cause of industrial injuries.
Guangzhou Lei Bai Le Automation Equipment Trading Co.,Ltd

output:6000-360000 bottles, fully automatic labeling machine, high labeling accuracy, low glue consumption, convenient,quick, user-friendly-touch-screen, ultra-high power motor, suitable for different materials,volumes and customized design, advanced gluing technology, enhance productivity, strengthen the competitiveness of product
GUANGZHOU LEIWEST PAK CO.,LTD
Guangzhou Leiwest Pak Co.,Ltd.(hereinafter referred to as"Leiwest Pak")was foundedin1999, Leiwest Pak specialized inresearching,designing,manufacturing liquid food aseptic packaging equipment,packaging materialsand intelligent packaging equipment,and has provided customers professionalandperfect liquid food aseptic packaging solutions with excellent quality,advanced technology and excellentservice.The LeiwestPak?€?sproduct?€?ve been successfully applied in dairy products,vegetable protein drinks,liquor,tea drinks,juices,condimentsindustry and so on.
Guangzhou Saint-Poly Industrial Co., Ltd.

Our company is specialized in producting conveyor chains and conveyor components. Our products are well used in bottle conveying lines, box conveying lines and can conveying lines.
Guangzhou Xili Machinery Co.,Ltd

PET bottle container solution.PET jar bottle,edible oil bottle(5L-10L)1200-6000BPH. Water filling and edible oil filling,PET Blow molding machine 4000-36000BPH.

WrapBOX represents new kind of innovation, bringing the benefits of the ring technology to the low-end capacity range of automatic stretch wrapping machines. Due to the simple structure and clever design, the installation, operation and maintenance of WrapBOX is quick and easy. No pneumatic / compressed air supply is needed.
Hangzhou Cobetter Filtration Equipment Co., Ltd.
Cobetter is a leading manufacturer of filtration products in the food and beverage industries. We dedicate ourselves to providing world-wide customers with high quality products at reasonable price.Do feel free to contact us.
Hangzhou Evalcan Machinery&Equipment Co.,ltd

This machine is designed for the packing variety products such as granulated foods, and many other particulate products, also can pack powder products like milk powder .which is used high performance servo systems with superior motion control, it can give the flexibility of the equipment for different material and functions.
Hangzhou Youngsun Intelligent Equipment Co., Ltd

We supply logistic packaging whole line solutions.
Harn Engineering Solutions Public Co.,Ltd.

Domino's M-Series is the truly flexible way to introduce print and apply label applicator solutions onto your production line. Whether you need supply chain traceability or labelling compliance, it has full GS1 coding capability at high resolution including bar codes, text and graphics.

Our products have outstanding features by using technology that can not be imitated, and has been used in over 40 countries worldwide.
Hastamat Verpackungstechnik GmbH

Hastamat-SCA - Packaging line for stackable chips. The perfect choice for gentle dosing of stackable chips. The systems have numerous blocks with single lanes, separately driven weighing belts and wear free drives for levelling and filling of chips into cans/boxes or trays. Output: 1.100 kg chips/hour and 21.600 cans/hour.

Heat and Control will showcase our latest generation FastBack?? Distribution system and the world?€?s only true multi-spectrum metal detector from CEIA. As exclusive representatives of industry leader, CEIA, Heat and Control offer their metal detection systems to the food and pharmaceutical industries.
Hefei Yougao Technology Co.,LTD

Inkjet conveyor,coding conveyor, paging machine factory.
Hefei Zhongchen Light Industrial Machinery Co.,Ltd

Filler advantages: - Filling volume accuracy ="±1.5ml;" - Online adjustment of filling volume; - Central Piping Station & Control; - Drive System and can conveyor; - The advanced electrical controlling units accurately control each filling station; - Adopting toughened glass protective door, with various protection switches.
HELUKABEL (Thailand) Co.,Ltd.

HELUKABEL?? is a German-based manufacturer and supplier of cables, wires, terminal, connectors and accessories. A product portfolio of over 33,000 in-stock line items, along with our custom cable solutions, allows us to supply state-of-the-art connectivity systems for industrial, infrastructure, oil and gas, renewable energy, building and office applications.
Hermasa Canning Technology, S.A.

TUNA PACKING MACHINE TUNIPACK??-DC (DENSITY CONTROL). HIGH SPEED (UP TO 500 CANS/MINUTE) AND FILL WEIGHT ACCURACY
Heshan Machinery Co., Ltd.
This instant noodle production line is the egg noodle, or fine dried noodles line, depending on the recipe of ingredient of the dough. It is a complete set of equipment of noodle maker machines or ramen machines. The Heshan fried noodle Line is compatible to the Indomie noodle production line.

Anyone wishing to find more than just metal when detecting foreign objects in filled food containers needs a radiometric inspection. The pulsed X-ray technology available exclusively from HEUFT is the first choice for maximum precision with the lowest level of radiation in this case.
Hi-Cook (Thailand) Co.,Ltd.

"HI-COOK Superheated Steam Oven" All the cooking parameters such as temperature, air velocity, steam volume etc. are controlled independently, making it possible in one oven to achieve various cooking conditions like steaming, steaming + cooking, grilling. All those are possible in superheated steam oven.
Hitec Food Equipment Co.,Ltd.

HITEC: Automation Sausage Hanging and stick loading trolley system To reduce manpower-consuming HITEC suggest this system to load and unload stick automatically both of before and after Smokehouse for easier working and increase volume of capacity.

The standardised machine design in a modular format with a smaller more compact footprint. The electronics are all fitted in an overhead panel. Future retro fitting within similar sizes ranges are possible. Three frame sizes will be available to allow future expansion for the customer.
The FreeTherm is a NEW batch processing system. The FreeTherm brings elements of the world leading RotaTherm?? continuous cooking & processing technology to the batch cooking processing world. The FreeTherm mixes, heats- using unique Direct Steam Injectors & de-aerates- using an integrated vacuum system, all with unique accurate temperature monitoring.

Main Products Co-Extrusion Film Easy Peel Film PE Plastic Film Film With Printing Supply Food Packaging Machine Pack Sealer Machine Vertical & Horizontal Pillow Machine Cups & trays
Hoerbiger KT Asia Services Pte Ltd

IEP Technologies is the worldwide leading provider of explosion protection systems and services. For over 60 years we have provided protection solutions that can suppress, isolate and vent combustible dust or vapor explosions in process industries.
Hoermann KG Verkaufsgesellschaft
Spiral door HS 7030 PU The sections are securely guided into a spiral bracket without any contact. With the high-performance 3-phase frequency converter control and the chain mechanism with spring compensation, the door reaches an opening speed of up to 2.5? m/s. It can also be fitted externally.

A network of industry-leading companies in processing and packaging which enables the market the expertise, effectiveness and exhaustiveness of a one-stop-shop service. The Network represents a unique partner for all manufacturing needs, with a comprehensive range of integrated solutions, and unmatched made-in-Italy technology.
Honesty Protection Supply Co.,Ltd.

PVC STRIP CURTAIN,HIGH SPEED DOORS,LOADING DOCK SYSTEM
Howa Matai Packaging (Thailand) Co.,Ltd.
We are manufacturer of FIBC, Jumbo Bag, Big Bag, Fiber Drum, Pharmaceutical Fiber Drum, Paper Core, Laminated Paper, Paper Cloth, Laminated Products, Laminated Cloth, Blue Sheet, Weed Control Sheet and Tarpaulin.
HP PPS Asia Pacific Pte. Ltd

The new HP 22mm Printhead supports high-volume printing applications that demand high speed and high-resolution coding. Its high print quality is a great fit for various applications, such as secondary and primary packaging, pharmaceutical labels, pharmaceutical cartons, secondary box label replacement, variable data document printing, and pattern printing.
HRS Heat Exchangers Sdn.Bhd.

The HRS R Series is a rotary scraped surface heat exchanger developed for hygienic applications. In addition to the standard series, a heavy duty version (HRS RHD Series) has been developed for more demanding applications. Features includes reduced pressures drop, large heat transfer area and continuous scraping action eliminates fouling.
Hua Yun Machinery Co., Ltd.

Filling machine, Blowing machine,Rotary capping machine,Sealing machine,Water treatment plant.
Hualian Machinery Group Wenzhou Import&Export Co., Ltd.

BSF-5640LG Automatic L Bar Sealer is mainly applied to film wrapping for different products, which has the advantages of dustproof, damp-proof and beautiful sealing. BS-4525 shrink tunnel adopts stainless steel heater and high power blowing motor for shrinking tunnel, characterized by quick heat-up, strong and even blowing.

Continuous sterilizers for canned products, for beverages, ready meals, petfoot, evap milk, soya milk, flavored milk, glass bottles . STERIBAR high pressure processing machine for juices and beverages. HPP processor. In line HPP machine.
Vacuum skin packing machine single chamber, reasonable price and easy to use!
I-Born Supply & Service Co.,Ltd.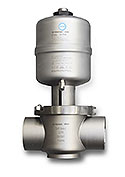 New Hygienic Single Seat Valve : SVP Basic เป็น Food Grade Valve รุ่นใหม่ ราคาประหยัด ได้รับมาตรฐานระดับโลกเช่น 3A และ EHEDG ผลิตด้วยเทคโนโลยีระดับสูงของ "SvDMO" จากประเทศเยอรมัน อายุการใช้งานยา่วนาน และการซ่อมบำรุงทำได้ง่ายมาก เหมาะสำหรับอุตสาหกรรม นม, เครื่องดื่ม และอาหาร

ICA Spa is an Italian company that has been manufacturing quality packaging machinery for over 55 years. We excel in providing both single serve and bagged retail solutions for powdery and granular product in general. Ica can offers a wide range of packaging solutions according with the customer needs.
ICE - Italian Trade Commission - Trade Promotion Section of the Italian Embassy in Bangkok
The Italian Trade Agency (ICE - ITA), Trade Promotion Section of the Italian Embassy, is a government agency under the Ministry of Economic Development of Italy. Our office has the role of promoting trade, investment and business opportunities between Italy and Thailand, Myanmar, Cambodia and Laos.

iglidur® A160 plain bearings are characterized by extreme media resistance at a low cost. The material can be used in temperature up to +90 C and conforms the food processing sector's demand. • Compliant with FDA and EU regulation • Lubrication- and maintenance-free Typical application areas • Beverage industry • Food industry • Medical technology
i-Mark Solutions Co.,Ltd.

Evolabel® The most easy to print and apply automatic labeling in automated production.
Incheon Business Information Technopark (IBITP)

INCHEON TECHNOPARK

Ultra Clean filling and packaging lines for milk and dairy products, juice, water, sauces, ketchup, mayonnaise & other liquid foods

Hotmelt machine with glue consumption check

OptiPedia, a registered trademark, is an online collaboration platform to manage the multiplication of relationship and touch points to improve business performance by allowing supply chain partners to share processes and information. This includes should-cost modelling, coordination of planning between entities results in less wastage, better margins, and lower costs
Innovate Packaging Co.,Ltd.

'FUJI KIKAI' Printing and Dry Laminate Machine, 'HAGIHARA' Slitter and Rewinder Machine, 'SUMITOMO' Extrusion Laminate Machine, 'TAIYO' Register Contoller,'TSM' Gravimatric Blending & Control, 'KOKA Chrome' Chrome maker, 'DAINICHI'Masterbatch resin Booth AQ11 Soventfree, Soventbase, COMBI from General Converting Booth CJ05
Inora Pharmaceutical Machinery Co., Ltd.

3 functions in 1 unit, compression, milling & granulating without adding water. Good folow ability of outcome granules can be easily filled into capsules. Can be equipped with vibration sifter & automatic suction conveyer.

INOX DEMO-CHEF Cooking system. INOX will be unveiling our highly versatile 'demo-chef' cooking system which allows food processors of products such as soups, sauces, jams, preserves, stocks, liquid products, dairy, beverage and more, to mix, cook and cool product under atmospheric, pressure or vacuum conditions.