Press Release & Industry News
This Way Up boost Potts' eco-credentials with switch to cans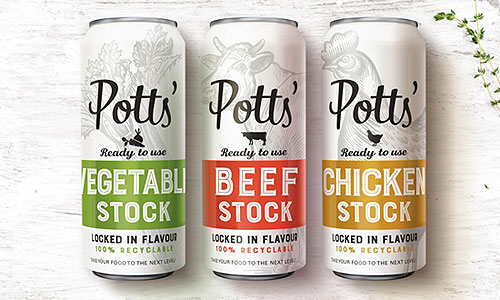 This Way Up has redesigned the newly launched packs for family-run food brand Potts', with a switch from single-use plastic to metal cans.
The stocks, gravies, cooking sauces and desserts provider said the packaging, which is now 100% recyclable, is a category first and Potts' is positioning itself as a pioneering brand.
In addition to shifting to a recyclable format, the design agency refreshed the design, incorporating new illustrations on pack which help to communicate the brand's premium, and fresh credentials.
Owen Potts, chief executive of Potts', said: "But how can we be truly happy when we see the damage that's being done to our planet by single-use plastic waste? This is our contribution to trying to make our world a happier and healthier place, that will be around for many more generations to enjoy."
Source: www.packagingnews.co.uk